The dangerous attempt to develop hacking software opened up insights into previously unknown behaviors. Friendships were put to the test.
---
After the failed attempt by Chris Kross and me to get a computer from Crusader Industries' engineering department, Husky and Hermieoth had come up with a plan. The briefing took place aboard Husky's Carrack. Brubacker, Husky, Hermieoth and I stood in the mess hall, while outside the window the asteroids of the moon Yela passed by. Husky explained the plan. He talked about an restriction zone, suppressing life signs, anti-aircraft guns, and I don't know what else.
After Husky finished, I looked around and said stoically, "I didn't understand a word he said, but that's exactly how we're doing it."
I could only hope that the plan worked. I needed this computer to be able to develop the software for the hacking chip Chris had ordered. The chip that would also allow me to delete my records at Hurston Dynamics. My ticket to a free life.
Just a short quantum jump later, we dove into the clouds of the gas giant Crusader. Deep below us in the semi-darkness lay the cloud city of Orison. We left the city behind us and flew further in the direction of sunrise. Slowly Stanton's star moved over the horizon. More and more, its rays flooded the clouds, transforming the dark cloud mass into a bright shining pink. In a trance-like state, I sat in the copilot seat and let the sight hypnotize me. Husky's voice brought me back to the present.
"It's time. We're almost at the border of the restricted zone. You need to give yourself the shot now to suppress your vital signs. And don't panic about the effects. Nothing can harm you."
I wish Ella would give us the shot with her professional hand. But she wasn't here, and so one by one, we all hammered the needle into our own arms. The effect was not long in coming. Suddenly I saw only pink clouds around me. I had the feeling of falling into a bottomless infinity. A fall that would not end until I heard Husky's voice. I opened my eyes and found myself on the bed of the infirmary station again. Husky was standing next to me.
"It's all good Zero. We made it. We're inside the restricted zone and on our way to the platform where the engineering department is located. Now comes the hard part."
Husky was funny. I hadn't even managed to get anywhere near the platform yet. And now was the hard part just going to come? I had no idea what was ahead of us. I looked anxiously at the railguns we had taken with us on Hermieoth's instructions.
I didn't have much time to think about it, though. Hermieoth ordered us into the vehicle hangar. We got into position at the closed ramp. Hermieoth stood on the right, I on the left, Brubacker in the middle. Hermieoth took up his weapon. I was still wondering why. Then the ramp opened.
The glaring light from Stanton's star flooded the hangar. I was blinded and couldn't see anything at first. Only Hermieoth's loud voice could be heard.
"Go! Go! Go! Get out of the ship. Hurry up and take cover."
As if remote-controlled, I ran. The Carrack hovered over the platform and spit me out right on a landing pad. Brubacker stumbled down the ramp beside me. Hermieoth was already kneeling at the end of the landing pad behind a parapet. As soon as we left the ship, Husky steered it away from the platform. Breathing heavily, Brubacker and I reached Hermieoth. He gave brief instructions.
"We're moving forward now. I'll go first, we'll take Brubacker in the middle. Zero you are last man. Keep your eyes open. We don't know if there are still Nine Tails on the platform."
The Nine Tails had occupied the platforms some time ago. There was heavy fighting at that time. However, I thought the matter was over. Did Hermieoth know something I didn't?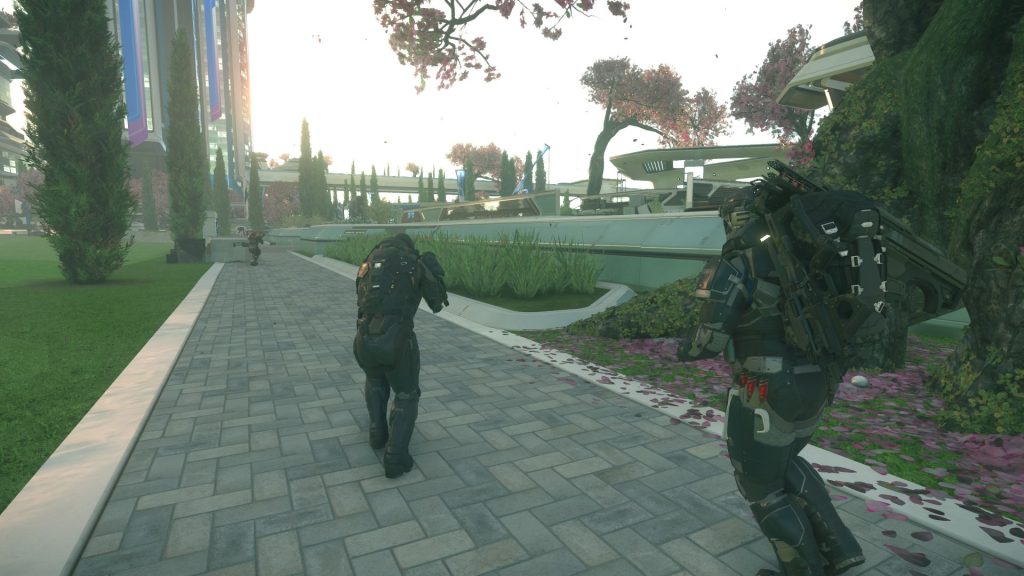 With some distance between us, we walked along a walkway at a duck's pace. It was gorgeous on the platform. Here and there, skyscrapers gleamed in white and glittering glass. We passed landscaped ponds and perfectly manicured lawns. Trees lined the path, pink leaves gently raining down from them. Ahead of us, Stanton's star shone through between the trees, bathing everything in a warm, pleasant light. It was impossible to imagine that this had been a war zone only a short time ago. Until we came around a corner of a house.
The picture changed abruptly. Overturned vehicles, barricades, charred remains, and the dead bodies of security guards and Crusader Industries employees. A perfect opportunity to get things that were not for sale. The clothes of the dead could be of use someday. In no time at all, I had stripped the bodies and stowed the items in my backpack. Hermieoth was beside himself.
"Are you crazy? This is ghouls!"
Only briefly did I look up.
"These are just dead bodies now. Empty shells that nobody needs anymore. They all had an imprint and woke up in a new body somewhere. I come from the desert. You don't leave anything to rot there. It would be disrespectful not to give useful things a new purpose."
Hermieoth turned, shaking his head, and walked on in silence. Brubacker went in another direction to take a closer look at a few things. It didn't take long for Hermieoth to notice.
"Bru, stay behind me. We don't know who else is here. And Zero, keep Bru in our midst."
We marched on across the crowdless platform. It was a stark contrast. On one side, boundless luxury with restaurants, exhibition spaces, relaxation corners and bars. On the other, destruction and death.
While Hermieoth and Husky discussed over the radio which of the high-rises the offices might be in, Brubacker and I took a closer look at an area with a bar. Just as I was taking an FS-9 rifle from a weapons case, I heard Hermieoth in a stern commanding tone.
"Bru, you have to stay close!"
Like a schoolboy caught playing a prank, I retorted, "But he's between us. Look, right in the middle of us."
Hermieoth was different than usual. His friendly and calm manner had given way to the gruff tone of a military leader. I had no idea what was wrong with him. The platform was deserted, with no danger anywhere to be seen. Instead of worrying about ghosts, he had better find out which building the offices were in. That was my biggest concern. Whether we could find an office with a construction computer would determine my future.
After another consultation with Husky, we oriented ourselves by a signpost. Finally, we took an elevator to the top floor of a high-rise building. Hermieoth stood at the front door, gun at the ready. Brubacker and I knelt directly behind him. With a glance at Brubacker, I said:
"Don't clunk Hermieoth's butt like that."
"Great view. Want me to take a picture?"
Hermieoth's response was prompt.
"Focus people!"
The elevator door opened. Even as Hermieoth took a few steps forward, I saw workstations and computers to my left. Head over heels, I rushed to one of the computers.
"Could you perhaps wait until I have checked that everything is secure?"
Hermieoth sounded almost desperate. But I didn't care. All my attention was on the computer. It was indeed a high-performance computer from the construction department. I took off my helmet and got to work. With half an ear, I heard Hermieoth scolding Brubacker, who went off to explore on his own again. After a few minutes, I had developed the hacking software.
"Got it. I'm done."
"Then let's get out of this giant tomb", Brubacker said.
"There's still a security code missing. I can't activate the software without it. There's none on the computer. Maybe we'll get lucky and an admin left one somewhere in the chaos of the attacks here. Maybe in the restaurant."
"And if not?", asked Brubacker.
"Then we have to get on the admin platform."
"That's secured by anti-aircraft guns. It's going to be a tough nut to crack", Hermieoth said anxiously.
After unsuccessfully searching a luxury restaurant, we were picked up by Husky. On the Carrack, we hopped into the Piscis and flew to the admin platform. Although none of the turrets were firing, Hermieoth let the Piscis dance back and forth like a leaf in a storm. It was worse than riding a roller coaster. My stomach was churning. Finally Hermieoth found a landing spot where we were safe from the turrets.
When Hermieoth opened the tail ramp, he looked sternly at Brubacker and me.
"Now special care. We stay together!"
Bravely, we followed Hermieoth into another building. Feverishly, we searched for a way to get a security code. To no success. Finally Hermieoth led us to a docking lock for large spaceships.
"There are computers from security here. Will they help?"
I tried to log into the computers in vain. It seemed hopeless. Desperately, I kicked my foot against the counter where the computers stood. The side cover fell off, revealing a port to the security system. Bingo, that was my access. The code download had just finished when a woman's voice was heard.
"Alert. Intruders detected."
A countdown began to count down.
"We need to get out of here now", Hermieoth urged. Husky also urged haste over the radio.
As fast as our feet could carry us, we ran to the Piscis. Everything seemed to be happening in slow motion, and yet in the rush and rising panic I could not perceive what was happening. It was not until we had reboarded the Carrack that I saw that the Piscis had been damaged. Hit by the anti-aircraft guns. We had been insanely lucky.
It was probably more luck than Hermieoth would have liked. During the debriefing, he gave us a scolding. First he took Brubacker to task for repeatedly moving away and putting himself in danger. Then it was my turn because I had taken the dead men's clothes. A heated argument broke out.
It turned out that Hermieoth had been in the battles with the Nine Tails on Orison. The experiences had burned deep into him. He had had enough of death. Yet death had been rendered meaningless by Imprint technology. And for a son of the desert like me, it was normal to salvage whatever he could find. I realized this again in the desert of Daymar. The long time in the loneliness of the endless sea of sand had reminded me of my origin. Hermieoth didn't seem to understand that.
However. We ended our argument and respected each other's opinion. Or was it rather accepted? Anyway. I was glad that Hermieoth had helped me. Thanks to him and the others, I had the hacking software to delete the entries from my Hurston account. Now I just had to find a way to get them into the Hurston Dynamics system.